A veneer is a thin covering placed over a tooth to conceal imperfections and achieve the desired smile. At Hulen Smiles, Implant and Cosmetic dentist in Fort Worth TX, we use veneers to improve the tooth's appearance but also for restorative purposes. Because each tooth is individually shaped and prepared to receive the veneer, the treatment is highly customized to meet the needs of each unique patient. Patients should have healthy teeth and gums to undergo the veneer procedure.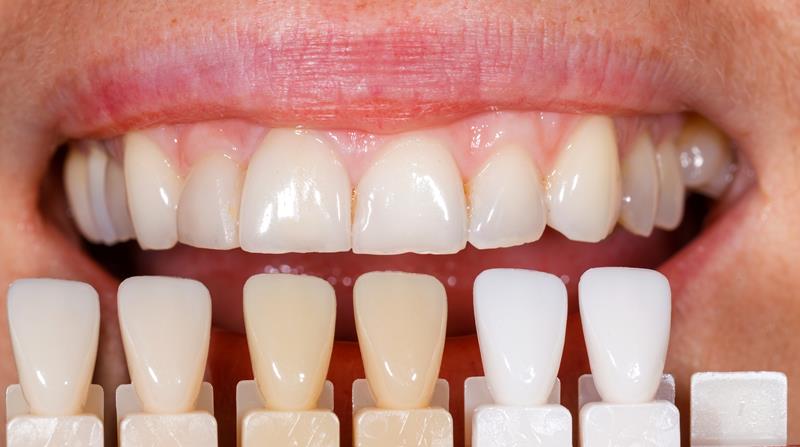 When Are Veneers a Good Option?
Veneers may be right for you if you have the following issues:
Small tooth chips or cracks that you want to hide
Uneven spacing between a few of your teeth
Discolored teeth from age, medications, or smoking
Gaps between your teeth
Otherwise healthy but slightly crooked teeth
Misaligned teeth
Chipped or worn-down front teeth
Crowns or caps on damaged teeth that do not blend in with your other teeth
The Procedure for Veneers
First, a minimal amount of enamel is removed from the surface of the targeted tooth. This is necessary to ensure that the veneer can fit over the tooth. An impression of the teeth is then taken and sent to the lab for the fabrication of the veneer. When the veneer arrives from the lab, the patient returns to the office, where the veneer is bonded onto the tooth to complete the procedure. The bonding process takes approximately one to two hours to complete.
Recovery time is minimal after getting veneers placed. Patients can resume normal activities immediately without fear of damaging their oral health. However, it is essential to remember that while this restoration can last for many years with proper care, patients are still susceptible to tooth decay on the teeth that are being treated. Brushing and flossing twice daily and regular professional cleanings and checkups are still necessary to maintain good oral health.
Are Veneers Right for You?
Many patients can benefit from a cosmetic improvement of their smile, and porcelain veneers are an excellent solution for patients who want a smile makeover without undergoing complex procedures like orthodontics or dental crowns.
Porcelain veneers are placed over the front of the teeth to conceal imperfections in their shape, size, color, and position. Dental restorations, such as fillings or crowns, may need to be completed before the veneers can be placed.
Veneers are a conservative treatment designed to mimic natural teeth in shape and color. If you're interested in getting veneers for your smile, visit Hulen Smiles, Implant and Cosmetic Dentist, at 6217 Oakmont Blvd, Fort Worth 76132, or call
(817) 585-4159 to schedule a consultation with our experienced dentist.